If you are looking for performance, luxury and speed - look no further than the WILDCAT 350
ELEGANCE and supreme comfort greet you after a hard day facing the elements. The saloon has moulded semi-circular seating with ample storage space underneath. Recessed lighting creates just the right atmosphere to relax in.
Extraordinary and compelling, this big "little cat" wastes no time in opening up a whole vista of opportunities and options for both the seasoned or would-be sailor.
From it's luxurious accommodation to built-in dive platform - the choice is yours - for use in charter or just plain sailing.
To their credit the WILDCATS offer excellent sailing performance along with comfortable berths for 8 - 10.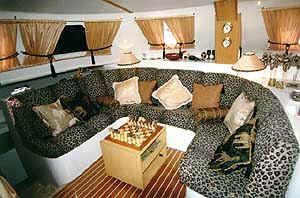 COMFORT Forget those hard bunks of old. This has 4 doubles (two en-suite) designed to rejuvenate hard living bodies.
With choices ranging from one to four heads, the most popular, however, being the 'heads up front' layout, allowing for complete cabin privacy while including spacious shower, toilet & basins for everyone.
Engine options are either one or two outboards, but the preferred method is to have two Yanmars or Volvos. The benefits of inboards speak for themselves for the cruising yachtsman, while the speed masters only require outboards. The WILDCAT is so easy to sail on a breath of air that this line of thought has its merits.
The goal of the WILDCAT design is to provide the greatest amount of usable space per meter for luxury and comfort for long distance cruising, or even just overnighting or weekending.
DESIGN The galley encourages you to whip up culinary creations, with everything - including the kitchen sink - at your finger tips.
Spacious berths, fully equipped galley and roomy stand-up heads make this competitively priced vessel an ideal medium for either the cruising yachtsman, charterer or shrewd investor.
Take a test and surround yourself in the magnificence of one of South Africa's most sought-after yachts!
---
When her adventure-loving husband took her on her first yachting trip, Kim visualised languishing on the foredeck sipping Pina Coladas, crocheting a new bikini every day and basically having fun, fun, fun in the sun.

Well, some of that came true, but not on that trip. In fact she jumped ship half-way to Cape Town and flew back to Durban. The reason? Comfort, or more aptly, lack of it. Most men can endure hardships or basic accommodations at sea, but a woman needs comfort and succour. The best news was that Eric had built canoes and speed boats in fibreglass in the past, and she knew that she could convince him to build her a dream yacht. With this in mind, and after their tough voyage on the South African coast, they flew off to the Seychelles Islands for a well-deserved holiday. There they witnessed their ideal fantasy come true. Yachts bobbed at anchor off palm-fringed islands while guests lunched ashore at leisure. On the return trip to South Africa they were already designing their new boat. A catamaran. Eric and his father Jack, a shipwright, set to work and within a year Caribbean Cat was ready to sail. Kim mainly concerned herself with the navigation and entertaining, while Eric and their three daughters Gaynor, Ange' and Nicole handled the sailing.

That was the beginning of their many adventurous cruises around the world, and many years and several yachts later they found themselves building for other equally adventurous people. Now, with their own factory located in Durban, South Africa, they build the Jeff Schionning Australian designed "WILDCAT' and have received a great number of orders from all over the world. These are sold in the Hull, deck and bulkhead form or complete. Most orders are for the completed yacht which Kim and Eric prefer to build.
COMPANY PROFILE 2
Good companies, like good wine, improve with age.

Witness the fact that International Yacht Brokers, (the boatyard´s company for charter and brokerage), after fifteen years, is still going strong: not only are Kim & Eric successfully heading up the business (as they have done from it's inception), but they extended their portfolio to include boat building and other related businesses. Furthermore, their three daughters have all been involved at one time or another with the businesses.

Gaynor, the eldest has run her own boat repair and maintenance company for many years and is well known and respected in the boating industry. Gaynor also supplies yachts to the film industry, and is involved in the co-ordination and operation of these in film making. Ange', the middle one, skippered their 76 foot family luxury catamaran, chartering it all over the world for eight years until it was sold several years ago. She now runs the brokerage section at the head office, Durban. Nicole, the youngest, runs the Cape Town branch of the company, her perky attitude and quick wit having stood her in good stead over a period of eight of the eleven years since the CT branch of International Yacht Brokers was established. Not only did the girls undergo the usual indoctrination of children brought up cruising the world with their parents on their various catamarans, but the way of life they have chosen as adults will always keep them afloat.

The Schoeman family have put astern many thousands of miles of blue water, and can talk from the heart when dealing with aspiring yacht buyers. International's object is to allow a buyer to realise his dreams and to ideally choose a good cruising boat, equip it to sail comfortably, safely and with a fair turn of speed. Most South African yacht owners wishing to sell their craft know that International Yacht Brokers is the most prominent and well-known company in South Africa when it comes to concluding sales quickly and efficiently.