The 430 is an exciting, efficient Powercat that is safe, user friendly, easy to maintain and affordable.
The new generation, daring and dramatic Prowler 430, a Jeff Schionning design, is a remarkable creation by Charter Cats South Africa. Its stunning performance, stylish design, excellent space planning, and quality of building and finishes make it the perfect cruising cat. Taking passage making into a new league, the Powercat will be seen extensively in the USA, Caribbean and Mediterranean.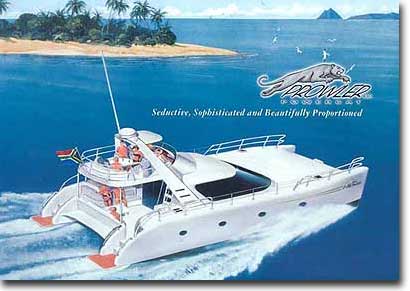 Engine options:
Two Yanmar 60hp diesel engines providing a top speed of 15-18 knots and a cruising speed of 10-15 knots.
Two 230hp diesel engines with a top speed of 25-28 knots and a cruising speed of 15-20 knots.
Streamlined, comfortable and long ranging, the Prowler 430 is a Powercat capable of handling the roughest ocean conditions.
This is not one of those "sport-fisher" type cruisers you'll see ploughing along a low speed and "still" ploughing along at a high speed. The fuel dock won't like this new style cat but you can be sure your bank account will.
Fast and powerful with fingertip control, this is a true thoroughbred. Its efficiency at all speed ranges makes fuel economy a strong point. Reaching a 1000-mile range at cruising speeds, this cat will take you to enticing places with ease.
The hull form offers smooth and fast passage-making, and its purposeful, yet elegant looks will draw admiring glances.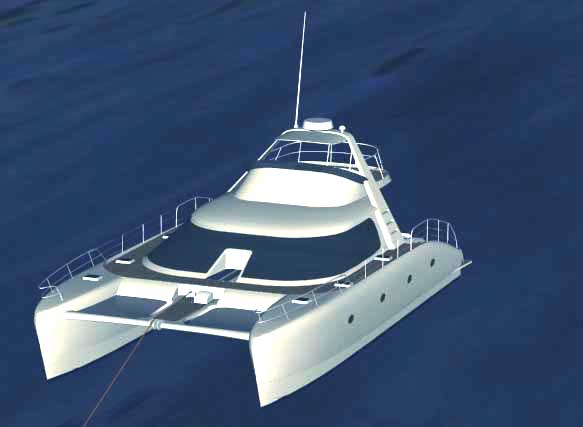 Life aboard the Powercat is indulgent and luxurious, with four large comfortable double en-suite cabins, an elegant open-plan sociable saloon with Cherrywood bar, superbly equipped galley, and an impressive control console.
The flybridge offers a second (or primary) steering station as it is well sheltered and shaded, and capable of being enclosed.
The smooth and uncluttered aft section is ideal for sunbathing, or relaxing with a favourite book or bottle of wine.
Motor installation is flexible in terms of position, especially with the smaller power units. Weight should be kept as central as possible but can be adjusted with fuel and water tanks. This allows a wider choice of layouts in the hulls, optimising personal preferences and needs.
Speeds will depend on the built weight and equipment choice, but this cat has the big advantage of basic efficiency in design.
Underwater lines are simple and clean with a long, straight keel line.
The props and rudders are fully protected for easy beaching or mooring.
She's a sleek and exciting Powercat – a pleasure to use and own.
The entire boat is meticulously planned to make cruising relaxing and pleasurable.